APRIL 28, 2023

JUST Remastered and re-releaseed. 1080P HD!
October 22, 2021

Featuring: Kayleigh Butcher, Bonnie Lander, Brian McCorkle, Paul Pinto
Music Director: Tom Hamilton
Recorded at Robert Ashley's studio, New York, July 2021.
October 16, 2020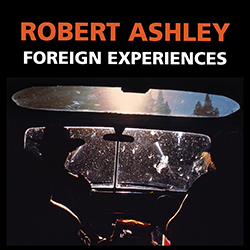 This new release from Lovely Music features Robert Ashley's famous ensemble, the "band" who interpreted his work for 20 years, from 1992 through 2012. They included Sam Ashley, Thomas Buckner, Marghreta Cordero, Tom Hamilton, Jacqueline Humbert, Joan La Barbara, and Amy X Neuburg. This recording was made at the Hebbel Theater, Berlin on May 12, 1995. The opera was also heard live at the Festival d'Avignon, the Brooklyn Academy of Music, Musica Strasbourg, and Site Santa Fe. Foreign Experiences is one of the opera tetralogy that Ashley wrote in the early 1990s, following Perfect Lives (LCD 4917CD/LDVD 4917DVD) and Atalanta (Act of God)(LCD 3301CD, LCD 3303CD). He would give it the overall title (also the name of one of the component operas) Now Eleanor's Idea. These four operas would follow the stories of some of the characters who populated Perfect Lives a decade earlier. We met Don last year when Lovely Music released a CD of a new Ashley "band" performing Improvement (Don Leaves Linda) (LCD 5002CD) at the Kitchen, New York. In Foreign Experiences "Don gets a job at a small college in the southwest. Once there, against all expectations, everything goes wrong. He loses his family and friends, he loses his car, he fears that he will lose his mind." He comes to believe that he has been given a mission, to learn about premonitions and he embarks on a journey to find the wise man who will give him priceless information. Linda thinks he plan is foolish; Don thinks he has no choice. But is the opera really "about" Don and Linda?
"Opera likes to simplify and enlarge its characters to make them fit grand themes. Mr. Ashley goes in the opposite direction and arrives at the cosmos just as easily. Mundane chitchat about good eating habits or car repair turns to metaphysics, ontology, epistemology, not to mention psychiatry, before we know it." -- Bernard Holland, The New York Times (November 21, 1994)
The live recording was made by Tom Hamilton and Cas Boumans, and this release has been edited mixed by Tom Hamilton. A slipcase includes a jewel case with a four-page folder, and a 96-page booklet of the full libretto.
Released in 2019


Featuring: Gelsey Bell, Amirtha Kidambi, Brian McCorkle, Paul Pinto, Dave Ruder, ALiza Simons.
Music Director: Tom Hamilton
Recorded at the Kitchen on Feburary 16, 2019.


A repressing of the original LP from 1979.

Forced Exposure is our exclusive distributor for CDs, LPs and digital.
Individual orders should also be made through Forced Exposure.
Books may be ordered direct from us. Please just send an email to the address below. We will send a pro-forma invoice and request payment by check or PayPal.
If you are in the E.U. please order from Metamkine or Soundohm, who work with Forced Exposure.
Lovely Music, Ltd.
260 West Broadway
New York, NY 10013
mimijohnson (at) lovely (dot) com

Site updated: November 1, 2022