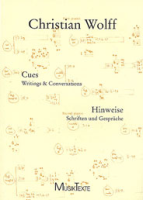 Christian Wolff
CUES: Writings & Conversations
Edition MusikTexte, Koln
http://www.musiktexte.de
Köln 1999, English-German edition, 544 pages.

Contents
Preface
Frederic Rzewski: The Algebra of Everyday Life
In General and on Own Work
Choice and Necessity. At work Immobility in Motion. New and Electronic Music
Precise Actions under Variously Indeterminate Conditions. On Form
"... something hazardous with which we may try ourselves". Questions
Whole New Areas of Unpredictability. Electricity and Music
Taking Chances. From a conversation with Victor Schonfield
"... let the listeners be just as free as the players". Fragments to make up an interview
What Are We Doing? Conversation with Ildi Ivanji
"There is no such thing as nothing". Conversation with Walter Zimmermann
Using the Past to Serve the Present. On political texts and new music
Under the Influence. On John Cage
Before the Fact. On notation
"...can't shake Webern's influence". Conversation with Gerald Gable
Open to Whom and to What. On the theory of open form in new music
Revolutionary Noise. Floating rhythm and experimental percussion
What is our work? On experimental music now
Quiet Music. On a Composition Seminar in Boswil
In a Kind of No-Man's Land. Conversation with Cole Gagne
"Anything you want to know you can know!" Conversation with Markus Trunk
Changes and Continuities. Sketch of a Statement
On My Work. Statement
Free to Exercise Identity. Music-Work-Experiement-Politics
About Others' Work
A Music with Real Life in It. Re Charles Ives
Randomly Fixed Points. On the music of Anton Webern
Anarchic Individualism and Socialism. Letter to Heinz-Klaus Metzger
Benign Ghosts. On John Cage
Burdocks. For Merce
"... then some music was really happening."
John Cage, Morton Feldman: Radio Happenings I-V
Tender and Tough as Nails. Three Statements on Morton Feldman
The Sound Doesn't Look Back. On Morton Feldmans Piano Piece 1952
"... how he made all the difference." Thinking of David Tudor
Towards a New Unity. Rzewski's The People United Will never Be Defeated
Moral Issues and Musical Practices. Briefly on Cornelius Cardew and John Cage.
On the Death of Cornelius Cardew
A Dimension of Perfectly Ordinary Reality. On Keith Rowe's music
Surprise and Discovery. Parker and Prévost
A Drama of Struggle. On Dieter Schnebels Marsyas
Closely Listened To. For Ernstalbrecht Stiebler
Classics
Discontinuities. Orestes by Euripides
Prose Scores

Prose Collection
Instrumentalist(s)-Singer(s)
Program Notes
String Trio
For Prepared Piano
For Magnetic Tape I
For Piano I
Suite (I)
Duo for Pianists I
Duo for Pianists II
For Pianist
For Five or Ten Players
In Between Pieces
For One, Two or Three People
Septet
Pairs
Stones
Burdocks
Lines
Accompaniments
Changing the System
Exercises 1-18
Bread and Roses
The Death of Mother Jones
Braverman Music
Hay Una Mujer Desaparecida
Preludes 1-11
Isn't This a Time
Exercise 22 (Bread and Roses for John)
Piano Song (I am a Dangerous Woman)
Eisler Ensemble Pieces
Peace Marches
"I Like to Think of Harriet Tubman"
For Morty (1987) & Digger Song
From Leaning Forward
Exercise 27
Emma
Mayday Materials
Malvina
Rosas
For Si
Look She Said
Tuba Song
Aina gonna study war no more
Merce
Peggy
Flutist and Guitarist
Two Pianists
Responsibility
Memory
Aarau Songs
Percussionist Songs
Spring
Pieces for Julius
Trio III
Violist and Percussionist
John, David
List of Works
Index of Names
LM BK006
ISBN 3-9803151-3-4
$50.00
Euros 30.00 (from MusikTexte)
Lovely Music ships MusikTexte books to North and South America.
All other customers should purchase directly from MusikTexte.
---