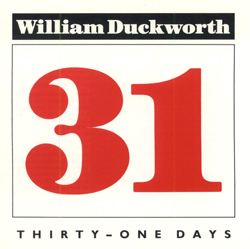 THIRTY-ONE DAYS
Michael Swartz, alto saxophone
Whereas all of his previous compositions were fully notated, William Duckworth wanted to take advantage of alto saxophonist Michael Swartz's improvisational skills. Basic units of material, melodies both traditionally and graphically notated, are to be repeated according to a 31-part Fibonacci-based structure. To preserve spontaneity of performance within a work that requires extensive rehearsal, the performer is strictly limited to one daily reading of the score over a 30-day period. Swartz gives a very colorful and thoughtful reading in a solo version (recorded on the 31st day.) An "ensemble version" created by over-dubbing seven readings of the score makes perfectly clear both the formal structure and the freedom which manage to co-exist in this work which is ultimately a collaboration of equal partners.
Track Listing:

1. Solo Version (17:21)

2. Ensemble Version (18:57)
CD 2032
7-4529-52032-2-3
List Price: $16.99
Out of stock.
---