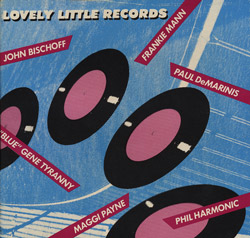 LOVELY LITTLE RECORDS
Box of six 7-inch records, including a booklet of notes and bios.
Sometimes lovely things come in small packages--in this case, Lovely Little Records. Works by John Bischoff, Paul DeMarinis, Phil Harmonic, Frankie Mann, Maggi Payne, and "Blue" Gene Tyranny.
LP 101-06
7-4529-50101-1-1
Lovely Price: $50.00
US customers, please select Priority Mail or UPS Ground for shipping.