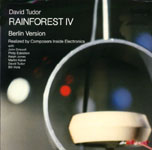 Rainforest IV
Rainforest IV (1973) is an electroacoustic environment conceived by David Tudor
and realized by the group Composers Inside Electronics.
These recordings are excerpts from a two-week installation of the acoustic environment Rainforest IV, 1980 in the Akademie der Kunste in West Berlin, as part of the exhibition, "For Eyes and Ears -- From the Mechanical Clock to the Acoustic Environment" (organized by the Berlin Festival Society, the Akademie der Kunste and the Berlin Artists Program of the DAAD.)
GR-EB 1
Editions Block Gramavision
No longer available.